The information below is to assist you understand how many kWh a new 50,0 kWp solar PV system would generate per year.
The system is based on the following factors :-
154 x 325 Wp solar PV panels mono all black
3 x 10 kWp duel string inverters
6.0 mm solar cable
Every building is unique in design and character and needs to be assessed carefully. For this purpose we have kept the design at optimal conditions for demonstration purposes -
Orientation - south
Pitch - 15 degrees
Shading - none
Cable length - 50 m
Location - South East
PV surface area - 51 m sq.
Spec Annual Yield - 909.95 kWh / kWp
Ventilation - Panels mounted off roof with ventilation behind panels
kWh (first year) - 45,543 kWh / year
Degradation - 20 % over 20 years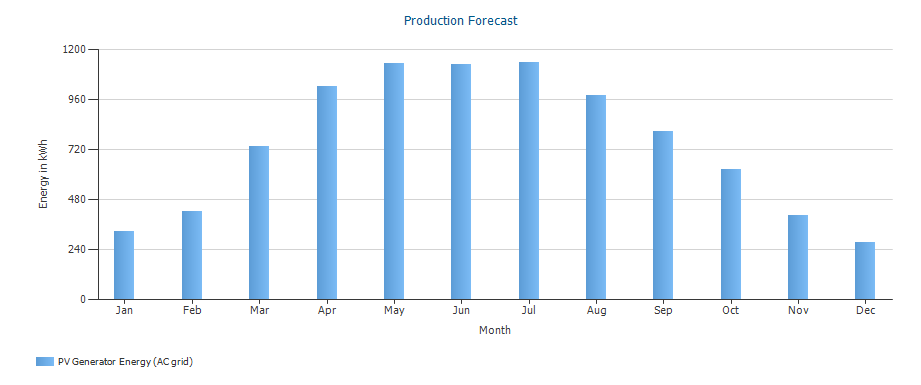 A 50 kWp system would typically be installed on a Agricultural / Commercial or Industrial building. The graph above shows that the electricity generated from the solar PV system is very different during the summer months to that of the winter months.
Systems of this size are well suited where there is a high energy consumption onsite throughout the year and there is suitable area available. With high energy demand onsite the vast majority of the PV electricity generated will dramatically offset the need for imported electricity saving the owner considerable amount of money over the life of the system. Furthermore with the increasing uptake of electric vehicles and Air Conditioning (AC) due to hotter summers electricity demand is only going to increase.
Contact Solar Partner for a FREE no obligation quotation and start generating your own electricity.