The information below is to assist you understand how many kWh a new 4.8 kWp solar PV system would generate per year.
The system is based on the following factors :-
12 x 400 Wp solar PV panels mono all black
1 x GivEnergy 5kW Hybrid inverter
1 x GivEnergy 5.2kWh LiFePO4 Battery
Every building is unique in design and character and needs to be assessed carefully. For this purpose we have kept the design at optimal conditions for demonstration purposes -
Orientation - South
Pitch - 35 degrees
Shading - Trees (8%)
Cable length - 20 m
Location - South East
Ventilation - Panels mounted off roof with ventilation behind panels
kWh (first year) - 4,346 kWh / year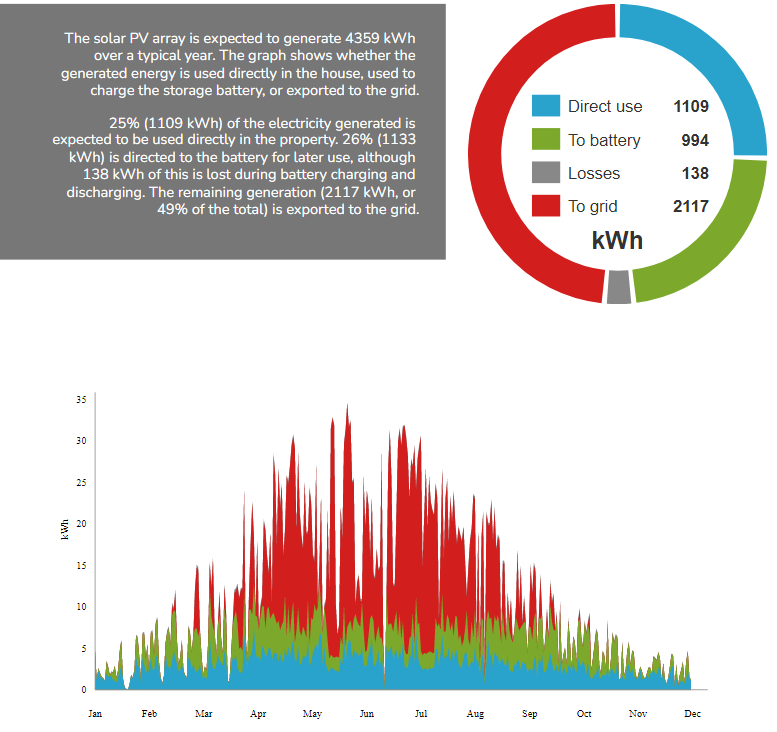 A 4.8 kWp system would typically be installed on a domestic houses.
With high energy demand onsite the a large portion of the PV electricity generated will dramatically offset the need for imported electricity saving the owner considerable amount of money over the life of the system. Furthermore, with the increasing uptake of electric vehicles, electric heating and Air Conditioning (AC) due to hotter summers electricity demand is only going to increase.
Contact Solar Partner for a FREE no obligation quotation and start generating your own electricity.
We look forward to helping you.